The best of NY State come together at Cornell University this weekend for the NY State Federation Championships. The best athletes from the CHSAA, PSAL, AIS, and NYSPHSAA will battle for the state championships.
An event by event breakdown of tops seeds and athletes to watch
BOYS MEET PREVIEW
Boys 55m Hurdles - A very deep field
Last year 7.82 qualified for the final. This year 7.82 is the 15th seed. Harrison's Claudio Delli Carpini is the top seed in 7.42. Delli Carpini has been a top athlete since he was a freshman but the senior is still looking for his first state title. Sheepshead Bay's Darryl Bradshaw has run 7.44 and is very tough to beat. Nathaniel Mercer of Unindale is the only other entry under 7.50 with his 7.46 season best.
The hurdles are a strange event and anything can happen. Wayne Seaton of Fordham Prep is capable of winning and New Rochell'es Chris Rones keeps getting faster week after week. Edison Tech's Brett Harrigton is also right in the mix.
Boys 55m Dash - It's wide open
Ayo Ishola Isijola of Sheepshead Bay is a big, strong sprinter. A fullback on the football team, Isijola won the PSAL City Champs last week in a close battle with Midwood's Donald Williams, who's the 4th seed here. Middle Country's Miles Lewis won some big races down here at The Armory this year and looked like the best dasher all season long.
Rome Free Academy's Anthony DeJean could shock his downstate counterparts. DeJean has run 6.45 this season. The defending Champion, Kevin Malivert, pulled up at the Section 1 State Qualifiers with an apparent hamstring pull, dod not run in the 4x200m finals that day, and is not listed on the entry.
Boys 300m Dash - Jermaine Brown's race to lose
John Thomas of Sheepshead Bay is good, but this kid from Medgar Evers, Jermaine Brown, is just too tough to beat. After watching Browne cruise a 34.00 in the prelims at the PSAL City Champs last week, some of us were watching closely in the final expecting something special, perhaps even a run at the national record of 33.19.
We got something special. Brown shot out of the blocks and looked like he was getting after it, but then, at the beginning of the back straight away, he pulled up, grabbing his hamstring, and appeared to be stopping. He did not. He fought through what turned out to be a cramp, hobbled down the back straight, powered around the final turn, caught Thomas, and still ran 33.79. I don't see anyone beating this kid. The junior has a shot at the national record next year. He's that good.
Boys 600m - Can Quercia beat Livingston?
Terrance Livingston is the top dog here. He ran 1:18.70 at the New Balance Collegiate Invitational, the third best time in US history. But can he handle the flat track with that long stride of his? Probably, but if he runs like he did at Easterns -- his worst race of the season -- he could lose to Mike Quercia of Marcellus who ran 1:20.52 at Manley Field House. It's a deep field with 11 guys under 1:23. Look for Nazareth's Sean Atkinson and Pine Bush's Zavior Taylor to challenge for the win as well.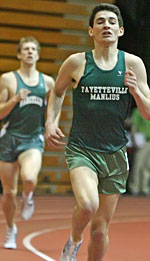 Boys 1000m - Alex Hatz
This is about as sure a bet as you can get in my mind. 2:26.44 national junior class record at Manley Field House? I'm sorry but nobody's in his league. Chris Stogsdill doesn't get enough credit as he ran 2:27.83 behind Hatz that day, which is flying. Sean Halpin of Iona Prep has been having a fantastic season and can close very well, but Hatz ran his last 800m that day in 1:55 so he's got wheels too. Hatz was second in the 1600m last winter as a sophomore. It's time to win this year.
Boys 1600m - Bertolotti, Andrews, or Hamm
Top five boys all seeded under 4:20 and the top three within half a second of each other. Bertolotti, Andrews, or Hamm can all win this race. Bertolotti used a monster kick at the Hispanic Games to earn his ticket to Millrose. Hamm and Andrews both have big meet experience this season. This could be one of the best races of the day. North Rockland's Chris Carrington has quietly had a very fine season and is a dangerous runner.
Boys 3200m - This one's hard to call
The two Arlington boys, John Muller and Adam Doherty, have times much faster than anyone else in the meet with their 9:11 and 9:13 season bests. But their are some other guys who haven't gone all out yet this season.
Pearl River's Mike Hickey is one example. The eight seed at 9:32.22, Hickey beat both Arlington boys at State Quals after an early, pedestrian pace. Bobby Andrews of SWR has the mile speed to running with anyone in this race. Otis Ubriaco of Burnt Hills and Aliaksandr Leuchanka of Shenenedehowa are both capable of winning and Sean Curry of Grimes/Ludden has already run 9:24 and is the three seed.
It will be interesting to see if anyone pushes the pace early or if it's a standard sit and kick affair
Boys 4x200m Relay - Sheepshead Bay vs. Ramapo
Sheepshead Bay are defending outdoor nationak champions and will be very tough to beat. Ramapo has run under 1:30 this season but that was with Kevin Malivert, who was injured in the 55m dash at state quals. It's Sheepshead Bay's race to lose with Newburgh focusing on the 4x400m.
Boys 4x400m Relay - Newburgh vs. Boys and Girls
Boys and Girls is a tough team to beat. They just keep coming back at you, which is what they did to Transit Tech at PSAL City Champs, catching them at the line. Newburgh is the top seed in 3:18.65 and they are so hard to beat at these big meets, but if anyone has a shot, it's Boys and Girls.
Monsignor Farrell got out of the tough CHSAA so they're race ready. If they can hang in there for 3 legs, anything could happen.
Boys 4x800m - Fordham Prep, Half Hallow Hills West, or Warwick Valley
First of all, don't sleep on Liverpool. This team can run and should contend for the title. But the top teams are Fordham Prep, Half Hallow Hills West, and Warwick Valley. Fordham ran 7:52.99 tis season and is the cream of the crop. The fact they aren't in the 4x400m only helps their cause.
No Transit tech in the race, who lead the state, and their are four other CHSAA teams under 8:00 this season who all would have a chance to win, but each section/association only gets one relay, which really hurts this race.
I never count out a Warwick Valley team from winning the big race and you have to think that Shenendehowa can run faster than that 8:17 they ran at Dartmouth. This could be very interesting.
Boys High Jump - Reilly vs. Ntumba
Arlington's Sean Reilly is the top seed. The senior didn't do winter last year and will be battling Jerry Ntumba of Greece Olympia. Reilly's best is 6-10 while Ntumba's is 6-09. There are five more boys over 6-06 this season. If the top guys falter, they'll be waiting to take home the title. Thirteen boys over 6-04 this season is solid for an event that is often considered to lack depth.
Boys Pole Vault - Platel, Helman, or Duggan
Jacke Platel of Bethleham is the top seed with a season best of 15-04 but Grand Island's Adam Helman has also cleared 15-00 this year. The only other athlete over 15-00 is Corey Duggan of Monsignor Farrell. Duggan is the third brother to excel in the event as Kyle and Brian both competed for Farrell.
Dan Putnam of Wallkill is the next best kid as he's been over 14-06.
Boys Long Jump - Four boys over 23 feet
BJ Murray of Aquinas and Claudio Delli Carpini are tied for the top seed in 23-03.5 but Maurice Easterling of Stepinac and Brian Archie of Niagra Falls have both cleared the 23 foot barrier as well. With 12 boys over 22 feet, anything could happen. Easterling won Eastern States and seems to be rounding into shape.
Boys Triple Jump - Four jumpers past 46 feet
Sam Ludgood of Webster Schroeder has the top leap this season in 46-11 but he'll be challenged by Lutalo Boyce of Westbury who's leapt 46-06.5. Marcus Smith of Edison Tech and Brian Archie of Niagra Falls are both capable of winning as well. North Rockland's Dasheen Ellis is new to the event and could surprise with a little more improvement.
Boys Shot Put - Buck, Urschel, and Haghighi will battle
Christopher Buck (Frontier - 57-10.5), John Urschel (Canisius - 57-7), and Joshua Haghighi (Wheatley - 57-01.75) are so close that this competition will come down to the final throw. Whoever gets an early mark will have an advantage of relaxing a little bit. Shenendehowa's Evan Palmer is the challenger who could surprise people with a good day. He's thrown 56-02 already.