BERLIN - The tickets figure to sell like hotcakes once the precise dates are announced.
It will be Team USA vs. Team Jamaica in two high-energy, high-voltage, high-stakes, made-for-TV dual track meets that will provide some of the most excitement in the sport in the year 2010.
All details remain in the "pending" category but it looks like the first meet will be held in National Stadium, Kingston, Jamaica, sometme early next May, with the return engagement to be staged at Icahn Stadium, New York City, later in May, perhaps the Memorial Day weekend.
Note that these will be TRACK meets, not TRACK AND FIELD meets.
The expected format: America's best men and best women vs. the Caribbean island's best in just six events, the 100, 200 and 400-meter dashes, the 100-meter (women) and 110-meter (men) hurdles, and the 4x100 and 4x400 relays.
A team scoring format will be a key to building initial interest in the first meet and maintaining huge enthusiasm levels through the last event of the second meet. The final score won't be 2-0 or 1-1 or 0-2, as in meets won or meets lost or tied. Total points it will be and they'll be totaled up after the first meet in Kingston and carried over into the second one in New York.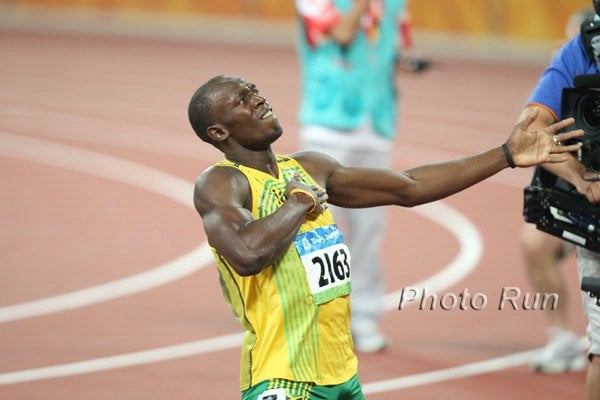 After watching njne days of intense action at the 12th World Championships of Track and Field at Berlin's historic Olympic Stadium, built for the 1936 Games, a survivor through the World War II years, and totally renovated at the cost of many millions of Euros, to world-class standards for these 2009 Worlds, I can hardly wait for the next edition of the USA-Jamaica rivalry to be put to the test.
It's too darn unfortunate that USA never did get to race Jamaica in the two 4x100s at these Worlds. Thanks to the Americans' penchant for self-destructive behavior - botching baton passes, just the way it transpired at the 2008 Beijing Olympic Games, and on a heap of other major occasions in earlier years - the two sprint relays evolved into USA-less Jamaican runaways.
Well, here's hoping that between here and May 2010, some designated American lads and ladies will get this thing down and actually learn to transport a baton around a single lap of a 400-meter track in a fashion that meets every last bit of minutea to be found in the rules books.
I do remember when American teams actually did this thing in a quick and legal manner - male foursomes anchored by Carl Lewis, Leroy Burrell or Maurice Greene, the female quatets by Gail Devers, Evelyn Ashford or Gwen Torrence. So it has be done before and can be done again. My personal prediction: success wll be achieved by May 2010.
And then, let the excitement begin.
Before leaving Berlin. USA Track and Field CEO Doug Logan responded to a few key questions:
(1) After seeing Usain Bolt run 100 meters in 9.58 and 200 in 19.19, can this man ever be beaten?: " I describe Usain Bolt as a "generational athlete." Like Jesse Owens and Carl Lewis, he is an athlete who comes along once in a generation. In Berlin, I have seen things I have never thought I would witness. Although it is not reasonable to expect any one of our athletes to turn around and beat him tomorrow, it is clear that the Bolt phenomenon has already caused us to raise our game."
(2) How can we turn the tide in the USA-Jamaica sprint rivalry? "Realistically speaking, if you take Usain Bolt out of the equation, the rivalry takes on a much, much different tenor. I like our women's 4x100 against them any day. I even would have liked our men's 4x100 against theirs on Saturday.
"Without Bolt, the sprint races (would) play out much differently, sans Bolt. But Bolt is not going anywhere. He is the standard-bearer of the rivalry."
(3) What about the business of pressure, after the sprint relay woes of Beijing and Berlin, being the real culprit?: "Ultimately, our first job with the relays is to completely take the pressure off. I can't control the pundits, armchair experts or this constant, anticipatory prediction of gloom that comes prior to the last baton pass. But we can blunt the craziness."
(4) Now that it's all history, what will you remember most about Berlin?: "Of course, I will remember our incredible team performance, which when all is said and done may stand as one of our deepest in history in terms of number of finalists and number of events in which we had finalists. We were simply superb.
"I will remember all of our medals, both of our American records, and the spirit of our athletes as they refused to give up and as they posted countless seasonal and personal bests.
"And I will remember one of the most warm, enthusiastic and sophisticated crowds I have ever seen in my career in sports. This mostly German crowd cheered each last-place finisher not with pity, but with an appreciation for fighting the fight. They roared just as loudly for the Polish women's hammer thrower who set a world record as they did for their own second-place finisher. I can't forget how they
cheered with deafening volume for an Ethiopian runner in the men's 5,000-meter rounds who fell almost 200 meters behind when he tried to put his shoe back on.
"But most of all, I will remember how they gave a standing ovation to (USA 4x100 runners) Lauryn Williams, Alexandria Anderson and Carmelita Jeter as they emerged from the medical area, and (the injured) Muna Lee's side. The trio jogged around the track to return to the mixed zone to speak to the press about the relay and were greeted with nothing but supportive cheers with every step.
That, my friends, is sportsmanship."
The international season rages on with the Weltklasse Meet in Zurich this Friday and the World Athletics Final Sept. 12-13 in Thessaloniki, Greece. It's no time to lose the head of track and field steam generated the last nine days in Olympic Stadium.