BERLIN - They adore their musclemen in this part of the world.

The behemoths are beloved. They fill stadiums. Every time they flex a bicep, the crowds go bananas.

Oh, not for skills playing defensive tackle, middle guard or strongside linebacker.

Just for whirling two-kilogram plates through the night air, whirling 16-pound balls-and-chains great distances, or muscling cannonballs 20 or 22 meters.

You had to be at Olympic Stadium Wednesday night to believe any of this.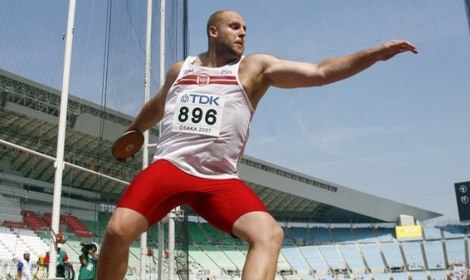 Piotr Malachowski, a sturdily built gentleman from Poland, had taken the early lead in the men's discus throwing final at the 12th World Championships of Track and Field, sending his favorite platter on a journey of 69.15 meters, or somewhere beyond 227 feet, and this was an all-time record for a nation that considers this branch of sport one of its favorite pastimes.

Soon as that measurement, 69.15, was made official, it lit up scoreboards all over the stadium and got a pretty good uproar going.

But it was nothing to compare to the uproar that hit this stadium about an hour later. Try as the cream of the best of the rest of the world's discus-whirling stalwarts could, none of these big fellas could manage to get their pet implements past that 69.15 mark.

With the sixth and final round of throwing on tap, Malachowski seemed about ready to collect his gold medal and six others seemed ready to write their concession speeches.

But, no, no, not Robert Harting. He was, after all, Germany's own man, doing his own thing for his own home fans, fans who been waiting for something truly humongous to happen all night.

They'd already seen Yusuf Saad Kamel, a Bahraini with Kenyan roots, outsprint the world's best 1500-meter runners in a race that turned from an 1100-meter lope into a 400-meter dash. In hot pursuit, Ethiopia's Deresse Mekonnen and USA's Bernard Lagat turned on their personal afterburners, but they couldn't match Kamel's.
They'd seen the women's 100-meter hurdles final turn into a three-way clash of the the hyphenated, Jamaicans Brigitte Foster-Hylton and Delloreen Ennis-.London going 1-3, but allowing Canadian Priscilla Lopes-Schliep to squeeze between them into second.

They'd seen a wonderful young runner from South Africa, Caster Semenya, all of 18 years old, sprint away from the women's 800-meter field, only to have that clearcut triumph bring up questions of gender-bending. Even a spokesman for the International Association of Athletics Federations, which runs this whole show, had to explain that this is a very-very-very complicated matter.

Well and good, but back now to the discus circle.

Harting had just a single more chance to turn it all around. He knew he'd have to seize total advantage of that final opportunity, or settle for seconds.

He stepped into the ring, whirled and let it fly. And now it was obvious that it was going to plop down to the stadium turf a long way away. Ah, but just how far? That was the $60,000 question (representing the award awaiting all winners here.)

Soon the answer was at hand - 69.43 meters, just 28 centimeters beyond Malachowski's best - and soon every eardrum in the place was a-hurting.

Think you've heard loud for a Yankee walk-off homer, a Giants' closing-seconds TD, a Knicks' bucket with 1.5 left in OT?

Well, let me tell you they'd be whispers compared to the noise heaped down on Harting.

Oh, it was deafening. And oh, how Harting ate it all up.

He stripped off his Deutschland vest, revealing his mighty torso to his adoring audience, grabbed the first German flag handed to him, and did several golden, joyous windsprints down the track.

It took many minutes for the crowd to reach a relative simmer.

By this time, Harting had been escorted over to a TV booth where the first man to congratulate him was none other than Jurgen Schult.

It's Schult, of course, who still owns the world record in the discus. Representing the old German Democratic Republic, which disappeared when "The Wall" came down 20 years ago, Schult had whirled the platter 74.08 meters, or 243 feet even, back on the 6th of June 1986 in Neubrandenburg,

Neubrandenbeg, then behind "The Wall," is about 80 miles east of Berlin.

Even Schult had to admit that the decibel rating in Neubrandenburg on June 6, 1986 was nothing like the reading for Harting the night of August 19, 2009 in Berlin.

The best American, Casey Malone, finished an honorable fifth on this night. He's the best Team USA had to offer but no match - on this night, at least - for Harting.
The best America ever had in the discus, of course, was the late, great Al Oerter. All he did was win four consecutive Olympic gold medals, everywhere from Melbourne (1956) to Rome (1960) to Tokyo (1964) to Mexico City (1968.)

Bottom line: Long Island Al was the greatest of the great but he never heard the decibels Robert Harting heard on this deafening night at Olympic Stadium