Highlights from around NY State
5th Annual Knight Time Invitational - Eleanor Roosevelt, MD looks amazing as usual. Sasha Richards (Mt. Vernon) wins 100m in 12.01, Charlene Lipsey (Hempstead) over Tasha Stanley (Roosevelt) 2:12.45 to 2:12.66 in race of the day. Hempstead boys 43.27 4x100m, Amityville sprinters look sharp, Byram Hills boys sweep 4x800m and 4xMile. Karen Henning (St. Anthony's) 151-07 hammer throw. Christopher Hunt's Story
Arcadia Invitational - Colonie 2nd in SMR in 3:26.79 as Nick Santos anchors with 1:51.7 800m carry.
Ballston Spa Invitational - Roland Graves (Guilderland) 4:21 1600m, Matt Flint (Queensbury) 9:48 3200m, Shane Wagner (Schuylerville) 14.6h 110m hurdles, Haley Madsen (Chatham) 4:48 1500m, Ashley Brown (Fair Haven) 15.5h 100m hurdles, Sarah Palmer (Schuylerville) 5-04 HJ.
CBA-LaSalle Relays - Shaker boys, Colonie girls win team titles. Shaker boys 3:33 SMR and 8:19 4x800, Colonie girls dominate track relays.
CNS Coed Relays - Corning 43.35 4x100m, David Gross (Brockport) 57-11 SP, AJ Johnson (Corning 22-08 LJ and 47-07 TJ, Andy Kahl (CNS) 6-06 HJ, Elisa Baskin (Binghamton) 35-10 SP, Sarita Barreiro (Binghamton) 101-06 Disc, Kelly Benfey (Rome Free) 34-09 and 10-06 PV.
Green Dragon Relays - Newburgh boys take team title led by 43.3h 4x100m, 3:37 SMR, 3:20 4x400m, and 7:57 4x800m. Newburgh girls win team crown as well. Nicole Rozario (Pine Bush) 7:07 2K Steeple, Bronxville 12:30 DMR, Newburgh 3:28 3x400m hurdles.
JFK Early Bird Invitational - Joe Whelan (Hamburg) 9:37 3200m, Will Cole (Hamburg) 56.48 400mIH, Ryan Pericozzi (Lancaster) 14-07 PV, Kelly Reddington (Frontier) 146-00.5 discus.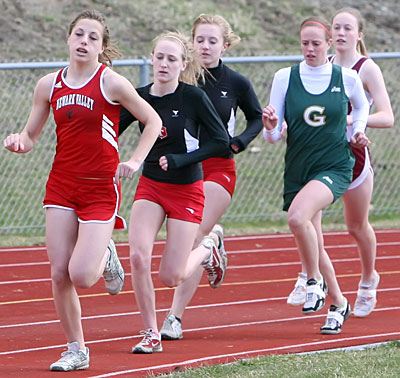 Lansing Invitational - Erin Cawley (Newark Valley) doubles 7:06 2K Steeple and 10:44 3K. Photo left by www.tullyrunners.com
NY City's Mayor's Cup - Farrell boys win team crown. Nickolei Mahlung (Loughlin) 10.80 100m, Troy Faulkner (Curtis) 21.80 200m, James Farley (Farrell) 1:56.86 800m, Dylan Trotzuk (Collegiate) 9:33 3200m, Vincenzo Chairiello (Farrell) 148-05 Discus. Boys and Girls takes girls title. Janice Jackson (Middle College) 14.51 100m Hurdles, Nadonnia Rodriques 24.59 200m, Meagan Gillespie (Boys and Girls) 56.70 400m, Phylis Francis over Dalilah Muhammad 2:13.2 to 2:14.21 in 800m, Dana Walsh (Conv. Sacred Heart) 4:48 1500m,
Nanuet Relays - Kellenberg boys win team title. Ramapo 42.4h 4x100m and 1:28 4x200m, Valley Central 8:10 4x800m. Suffern girls win team title. Suffern over Pearl River by 1 second in 4x1600m, Suffern 1:43.8 4x200m, Tappan Zee 12:24 DMR.
Suffolk Girls Coaches Meet - meet shortened by rain and thunderstorms.