Special to ArmoryTrack.com
"Beautiful, beautiful; great, that's the way to look," Frank "Gags" Gagliano shouts out as Olympian Erin Donohue zips through another interval drill at the Rutgers University "bubble" track in Piscataway, N.J.
"Boy, you look good today, Erin," he tells her after a brief jog and she's off on another phase of the day's designated speedwork.
Rob Novak, the recent Seton Hall graduate, has already heard such encouragement. He, too, is looking strong, fast and formful, running this day with training partner Deon Bascom, the former Pitt star.
Donohue and Novak are the only current enrollees in the Frank Gagliano studio of running science.
The famed coach would like to bring just a few more promising students under his wing, but he's got to be sure they're willing to put up with his training regime, too.
They've got to "want it" with all their hearts and all their souls. There's no messing around when you're a student of Frank Gagliano.
Donohue and Novak already rank as major achievers in track and field. After Donohue's brilliant years at Haddonfield, N.J. High School, she went on to further brilliance at the University of North Carolina and, in her third season past her Tarheel days, ran a solid second in the women 's 1500-meter final at the 2008 Olympic Trials.
But her performance at the 2008 Olympic Games in Beijing fell far short of expectations. Caught in heavy traffic and unable to come up with the big lift needed down the homestretch of her 1,500-meter prelim, she wound up in eighth place and out of it.
Realistically, she may not have been ready to duke it out with the world's battle-hardened best at that phase of her track career.
But that was 2008. Now, it's just about 2010, bigger and better things await.
Gagliano can see her getting her 800-meter time well under two minutes and her 1,500 in the four-minute range, which would put her right up there with the national and global elites.
"Yes I can," is her mantra as she puts her running career in the learned hands of "Gags."
Novak had been the nation's number one scholastic 800-meter runner, coming out of Bordentown, N.J. High School in 2005. He had a strong, solid career at Seton Hall and was a Big East Conference champion - although some of those Pirate days were slowed to "down time" with injuries.
Then again, he never did make a major impact on the national scene,
and graduated from Seton Hall knowing he could do a whole lot better than he'd done to that stage of his running career.
So - after leading the Shore Athletic Club to the USA Track and Field National Club Team Championship last July - he sought out Gagliano. The partnership is already paying dividends.
Novak has been looking sharp and smooth in workouts under Gagliano,
which take place at rotating sites in New York and New Jersey.
"I want to see Rob run 1:46 (800) and 3:58 (mile)," says "Gags."
"And that's just this year.
"He can be a lot better than that later on."
"Yes, I believe that," says Novak, smiling.
He knows he has the inherent talent. He knows a world of great running opportunities may await him. He can see his days in the sun just ahead. These are the challenges "Gags" likes best. He's been meeting them head-on for years and years and years.
Now, though, flash-back to the 1950s.
"I had a really great arm," Gagliano tells you. "I could really get that ball downfield."
And that arm carried him from quarterbacking the Mount St. Michael's High School Mounties of the New York Catholic High Schools Athletic Association to the University of Richmond Spiders, then of the Southern Conference, to the Hamilton Tiger-Cats of the Canadian Football League.
"I really love football," he insists.
But, really, who would ever guess?
The man universally called "Gags" really did want to coach football once he got back from his stay in the Canadian pros. He had his heart set on building a successful program from scratch when he signed on for his first coaching job at Roselle Catholic HighSchool in New Jersey in 1960. That was the agreement. Roselle Catholic, in the heart of talent-rich Central Jersey, would join the fray and surely prosper on the gridiron. Really, it seemed a win-win situation. But that scenario never did work out..
Somewhere along the line, the Roselle Catholic administration had second thoughts. Their young Lions never did - and still haven't - played a down. Football at Roselle Catholic remains a musty vision.

"In the meantime, would you like to help out with our track program?" they asked Gagliano. After all, he wasn't a complete novice to that other sport. He'd put that "really great arm" to use throwing the javelin, over 180 feet at Mount St. Michael's and over 200 at Richmond. So he answered "yes." The rest, as they say, is history.

Never a man to do things in a half-fast way, Gaglia no plunged into track and field coaching with all his heart and all his soul. Sure, he knew how to launch the missiles (shot, discus, javelin) on long journeys, but what about the running and jumping events, what about the whole essence of the sport, where the idea was not to pummel an opponent into submission, but to outrun him, out-jump him, out-throw him?

"I started reading a lot of books, I started talking to a lot of knowledgeable people,I saw what other coaches were doing," he remembers. And pretty soon those other coaches saw they had a serious new rival in their midst. He remembers his first-year team losing a dual meet by a 112-15 score. By his second year, his own team was racking up the points in profusion. That 112-15 winner backed out of a return engagement the following season.

"Gags" and his Roselle Catholic Lions - led by Joe Savage, one of the greatest in a long line of New Jersey middle-distance running celebrities - lost no time becoming a big-time power. The medals and plaques and trophies and records - and those cherished Penn Relays Championship of America winners' "wheels" - began piling up.
By 1969, and a brilliant 10-season run at Roselle Catholic - it was time to take an important step up the ladder. From the fall of 1969 to the spring of 1974, he served as assistant coach at Manhattan College, working under the famed Fred Dwyer, and it's no coincidence that those years saw the Manhattan Jaspers reach their greatest heights - topped by a team triumph in the 1973 NCAA Indoor Championships.
All these years later, Manhattan remains one of just three Eastern schools to have won it all at the NCAA Indoor Championships (Villanova and George Mason are the others.)
By now, "Gags" was morphing into a brilliant mentor of middle distance runners. Working with Dwyer (himself one of America's great milers of the 1950s), they developed squads featuring such greats as Pete Squires, Tony Colon, Mike Keogh, John Lovett - and Joe Savage.
More great years for Gagliano followed when he moved to Rutgers University, where he served under head coach Les Wallack through 1982. These were glory years for RU runners, whose ranks included Olympic steeplechaser Mike Roche, mile great Ron Spiers, and distance stars Bill Sieben and Jim Casey.
When Wallack stepped down in the spring of 1982, Gagliano took over the RU head coaching job. By the fall of 1984, though, it was again time to move, this time to the head coaching job at Georgetown University. And his array of successes as head man of the Hoyas reached new heights. What great performances those Hoyas delivered on every level: by Olympians John Trautmann, Steve Holman and Rich Kenah, along with such notables as Bryan Woodward, Peter Sherry, Matt Kalwinsky, Mark Sivieri, Eric Savoth, and more.
Just the way it has always been at Rutgers, those Georgetown teams were "complete teams," meaning they were producing star performers in the sprints, hurdles, jumps and throws, too, to match all their distance notables. Ad so "Gags" saw his Hoyas run off a series of NCAA, IC4A, Big East and Penn Relays crowns. By 2001, though, Gagliano figured "it was time."
Yes, time to take leave of the collegiate whirl, where success often evolved into a rat-race; to focus on helping post-collegians reach out for their targeted dreams, to help those who "really wanted it" to get there, to reach the sport's highest levels.
So he said his goodbyes to the East Coast, flew west to California's Bay Area and set up shop as head coach and guru-in-chief of the Nike Farm Team, based on the campus of Stanford University.
Club coaching, of course, was nothing new to him. Years back, he had guided the progress of New Jersey-based runners with the Athletic Attic-backed team. Then, through his his Georgetown days, he'd worked with the famed Reebok Enclave group. As Vin Lananna (pictured below), who'd risen to coaching fame at Dartmouth, came West to handle the reins of the Stanford University team, "Gags" directed operations for The Farm Team and it was a hugely successful partnership.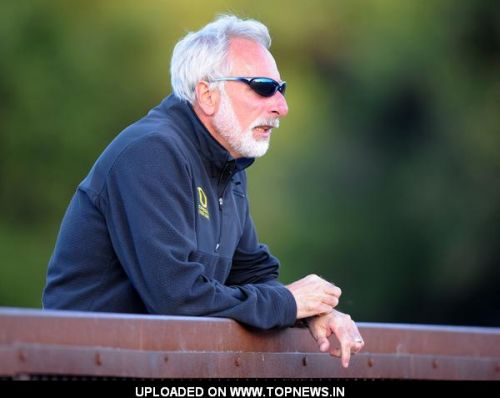 Stanford, which had always been a center of excellence in track and field, rose to even greater heights. And as it did, its graduates - joined by a roster of grads from other colleges and universities around the nation, all of them hungry to reach the "next level" of the sport, combined forces to build The Farm Team's global reputation. Eventually, though, it was time for another move.

This time, for Gagliano, it was due north, to Oregon, to handle the reins of Oregon Elite Track Club and other Nike-supported athletes.

Again, it was Gagliano and Lananna (by now the associate athletic director as well as head track and field coach at the University of Oregon) working in close cooperation. Oregon's famed Hayward Field was totally renovated on time to host what many will call the most successful-ever edition of the USA Olympic Trials in 2008. And Oregon-based athletes played dominating roles. Primary example: the 1-2-3 finish by Nick Symmonds, Andrew Wheating and Christian Smith in the men's 800 final.
As Gagliano's career - and his athletes - went from success to success over the years, the honors appropriately added up.
He's a proud member of the United States Track and Field/Cross Country Coaches Association Hall of Fame, Class of 2003, as well as Georgetown's Hall of Fame, and an assortment of others.He's inspired a number of long list of other coaches, too. None is more of a "Gags" disciple than Mike Mulqueen of Rutgers.
Mulqueen had been a pupil of Gagliano at Manhattan College, later joined the Rutgers staff, and took the men's head coaching post when "Gags" moved to Georgetown.

"He's just amazing," said Mulqueen. "He's always been a man I've looked up to. "I don't think anyone loves this sport more than he does."

When all the points were totaled up and Rutgers won its first IC4A outdoor title five years ago, one of the first things Mulqueen did was take out his cell phone and call Gagliano, three time zones away, with the very good news.

By the winter of 2008, however, it was time for Gagliano to step away from Oregon and return East.
Missing lifelong friends and family was one reason, but the illness of daughter-in-law Meighan Coughlin-Gagliano was primary.

Family members rallied around for all the support they could muster, but she would lose her brave battle with an aggressive form of breast cancer, at age 40, in late June 2009. Saddened by the loss, the Gaglianos surely soldier on and are determined to use Meighan's fighting spirit for inspiration.

At 72, Gagliano has no desire to assume large-scale coaching opportunities - as he handled so
winningly at every step along his life's path - but he surely wants to keep his practiced hand in the game.
And that's why he's working with Donohue and Novak, and perhaps a few more who'll step forward in the months ahead.

Contrary to so many nay-sayers, he calls the future of track and field in America "fantastic."
He points to the continued growth of the sport on the scholastic level and the continued backing of track in the collegiate ranks, and the successes of American athletes at the Olympic and World Championship-levels "fantastic, too."

He points to such progress as the "fantastic" programs and events at New York's Armory Track Center, and the ongoing support that enables post-graduate athletes - particularly American distance men and women - to run after their dreams. And he knows there is more.

He doesn't deny the negativity many point to - the ongoing war on doping, some colleges (several formerly prominent) dropping out of the men's side of the sport, etc.

And he's outspoken about the media's decreasing interest in covering the sport at the level it deserves - and once enjoyed.

Then again, he's been around the track long enough to know that all steps forward must be gradual.It's a discussion he could keep on forever. But right now, there's a workout going on. The mission continues.

"Drive those arms, Erin, come on, come on."
"All the way through, Rob, all the way through."

One of track and field's greatest voices is still coming through, loud and clear.