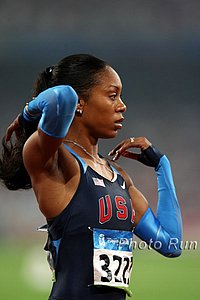 BERLIN - You had to love all this stuff.

Four days into the 12th World Championships of Track and Field, the goings-on really went global.

Only one nation ever wins the World Cup or the World Series, only one team ever reigns over the Super Bowl or the NBA finals, or skates off with the Stanley Cup.

But look what 49,848 visitors to Olympic Stadium got for their hard-earned euros Tuesday night:

They saw a pair of tireless gentlemen from Kenya (Ezekiel Kemboi and Richard Kipkemboi Mateelong) speed 3,000 meters as if the three-foot wooden obstacles and the water jump they plunked in their way each of seven and a half laps were just slight inconveniences on the road to their East African nation's incredible and ongoing dominance in the world of steeplechase running. All in just 43 seconds beyond eight minutes.

They saw a Jamaica-born, Florida-reared, Texas-trained 400-meter runner (Sanya Richards) gain major consolation for the Olympic 400 gold medal she coulda-shoulda-woulda won at Beijing last year - bur didn't - with a triumph by a humongous margin over would-be rivals from Jamaica and Russia. And as the Great Brit (Christine Ohuruogu) who'd actually won this one-lapper in China, settled for a just-one-of-the-bunch fifth place this time around. Richards did it nicely and neatly - even her time was nice and neat, 49 seconds flat, fastest in the world this year, and faster, too, by a whole lot, than Ohuruogu in Beijing,
They saw Great Britons in the audience - oh there were lots of them, each equipped with personal Union Jacks - say, 'OK, lads, well the ladies 400's gone over to the States but we still have the men's triple jump. And then the object of all that affection, Phillips Idowu, a 21-year-old Londoner with dyed red hair, hop, step and jump his way to everlasting glory at the expense of principal threats from Portugal (Nelson Evora) and Cuba (Alexis Copello.) They measured his tri-leap out to 17.73 meters, or 58 feet, 2 inches, or a pretty good indicator that this young fella will soon threaten the world record owned since 1995 by another Brit, Jonathan Edwards, the only man ever to land in the pit 60 feet past the scratch line. Oh, and that he's destined to have heavy loads of pressure heaped on his shoilders heading into the London Olympic Games of 2012.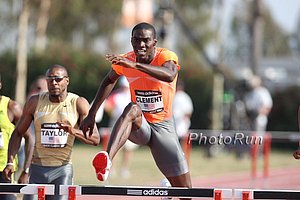 But Americans - no USA guy made the 12-man triple jump final - weren't about to let any of this slide by without a plan of counter-attack. With the mission now in the hands of a Trinidad-born, Texas-based Floriidian, (Kerron Clement) and a Florida-born, North Carolina-trained, Illinois resident (Bershawn "Batman" Jackson) Team USA struck back. Clement, who'd won the 2007 edition of this meet, when it was held in Osaka, Japan, had himself convinced he'd won it even before the starting gun was fired, and then did just as he thought. Taking 13 strides between each of the 10 three-foot hurdles, Clement breezed across in 47.91 seconds, slower than Osaka but just as dominating.

Jackson, battling an aching hamstring, could not, however, outbattle Senor Javier Culson. Running out of the difficult lane eight - a position which makes it impössible to check on the progress of others most of the way - Culson, a tall drink of water from Ponce, came home strongly to win the silver medal that was the first medal of any hue ever won by an athlete from Puerto Rico since these World Championships were first staged in Helsinki in 1983. Of course, acquistion of that medal sent Culson off in waves of ultimate pride, and maybe, ultimately the hope that fellow Puerto Ricans get to accept the notion that baseball and basketball are not the only sports that eally count.

Finally, it was the home team's turn.

Berliners have done a first-rate job of organizing these 12trh Worlds, the first to be held in their nation since the 1993 edition in Stuttgart.

The locals have been gracious hosts, doing everything possible for their visiting athletes to perform as well as they might have had they never left home. There was genuine appla use for all, each day since these festivities began. There was approval for gold medal shot putter Christian Cantwell of USA last Saturday night (even after he outmuscled his principal foe, German Ralf Bartels.) There were roars of delight at Usain Bolt's world-record sprinting Sunday night. There was lots of noise for tireless 10,000-meter champion Kenenisa Bekele of Ethiopia Monday night.
But it was Steffi Nerius who really sent the applause meters spinning. She unleased a javelin throw of 67.30 meters, over 220 feet, in the very first round Tuesday night.

Through five more throws, she never managed to do better. But, then again, leading foes Barbora Spotakova of the Czech Republic and Maria Abakumova of Russia never managed to do better, either.

So that was it, Germany's first gold, Deutschland uber alles; in the world of friendly sport, anyway.

Steffi brought down the house, and this was one heck of a house to bring down. It's been around since the bad old days of 1936, sometimes translated into the good old days of Jesse Owens.

There was glory in it for guys and gals from all over the planet. And these 12th Worlds still have five days to go..

So we'll say it again: You've got to love all this stuff.

Most photos courtesy Victah Sailer / PhotoRun.net