BERLIN - Last time they gathered the globe's fastest humans to the massive Olympiastadion, it took Jesse Owens a hand-timed 10.3 seconds to run 100 meters and into everlasting acclaim as the still-acknowledged greatest track and field athlete of all time.

But he'd probably have been dead last in the 100-meter race they ran Sunday in that same massive stadium, the relic of the bad-old days of the National Socialist regime that would first turn the world of spörts upside down and then the rest of the world upside down as well.

Darvis (Doc) Patton of the USA, the eighth and absolutely last-place finisher in the 100-meter final at the 12th World Champioinships of Track and Field Sunday night, crossed the line in an electronically-clocked 10.34 seconds.

And would you believe that Usain Bolt of Jamaica got to that same finish line in 9.58 seconds to absolutely demolish the world record of 9.68 he'd set at the 2008 Beijing Olympic Games?
And that American Tyson Gay got there behind Bolt in 9.71 seconds, making him the second fastest human in history, and that the number three man, Asafa Powell of Jamaica, wasn't that far back, either, third in 9.84?

Believe, believe, believe.

That's exactly what some 52,000 Olympiastadion fans Sunday night did as Bolt ran one for the ages.

Of course , we're talking apples and oranges here.

Electronic timing systems were still in their infancy when they ran the 1936 Olympic Games at Olympiastadion. Hand times were the norm. Jesse Owens's 10.3 hand time would have been a 10.5ish electronic performance.

So do not let any of this, in any way whatsoever, diminish the luster of Owens' greatness. But they do serve to emhasize how this sport has evolved.

In case you haven't noticed, they now run all the world's biggest track meets on rubberized tracks that are absolute speedways. Jesse Owens ran on cinders, and came to every meet with a trowel because he started every race out of holes dug out of the cinder surface.And the runners wear featherweight spiked shoes and aerodynamic uniforms that stretch every last hundreth of a second out of human performance.

So, while remembering Owens - as every American athlete here does with the "JO" monogrammed onto his speed suit - let's recognize what this sport has now become - something worlds apart.
Some predict Bolt will run even faster for the 100 sometime soon. A 9.47 maybe, or a 9.39?

That would have to come at some other meet - after Bolt turns his attention to the 200 meters here, and then to the 4x100 relay with his Jamaica partners.

He got a great start to the 100, but had a less than great finish. Some guessed he=2 0ran 95 meters all out, the last 5 meters at recreational pace.

"I was definitely ready for the world record and I did it," Bolt said after a celebratory tour of the track.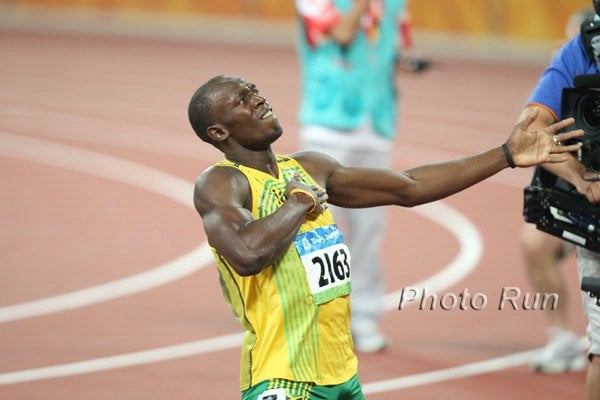 "I am proud of myself. This is a big moment in history. But you never know what happens tomorrow.

"For me, this was a great run.

"I just came to execute and I did it right.

"I didn't think I could run one tenth (or 0.1) faster than my own world record but I did. For me now, anything is possible."

But; again, don't equate 1936 with 2009.

Everything was not possible for Jesse Owens. He not only battled his way through the racism that was endemic to the America and world of the 1930s but his Olympiastadion successs turned the madman of a dictator who ruled the 1936 Games into even more of a maniac destined to wreak infinite horror on the world.

Usain Bolt is a happy-go-lucky young man of 23.

May he go on to all kinds of startling clockings in a career that defines the possibility of ultimate human performance.

Just don't go into the numbers.

His 9.58 in 2009 still doesn't put him ahead of 1936's 10-point-three.

This isn't about the numbers game. This is about a whole lot more.