Chenango Valley 2004 States Winners Go For Repeat in 2016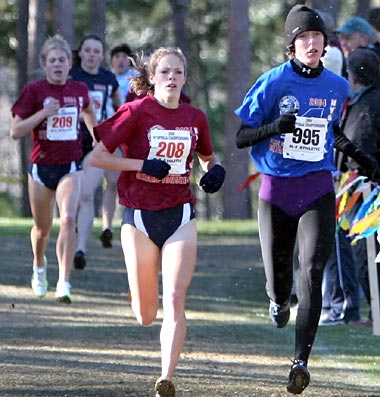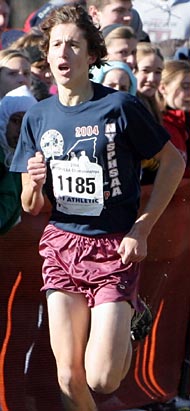 States champ Nicole Blood (no. 208) of Saratoga battled later Nike Nationals winner Aislinn Ryan of Warwick Valley at Chenango Valley in 2004 in the Girls AA race. Walt Whitman's Ryan Sheridan was the winner of the Boys AA race.

The 2004 State meet at the Chenango Valley State Park XC course was a classic featuring some of the most notable names in NY XC history. Not only was it a year filled with tremendous running talent, but it was also the first State meet to feature five class championships on both the boys and girls side, as a brief era of opportunities emerged as NYSPHSAA added an AA class to the previous A-B-C-D lineup.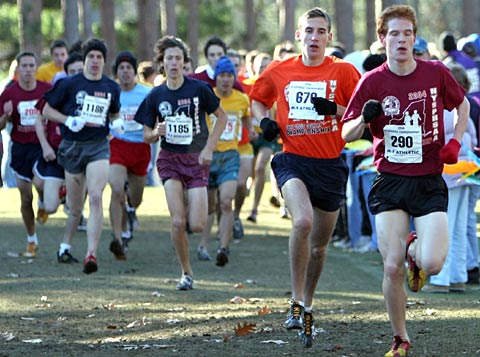 Brian Rhodes-Devey (no. 290) of Guilderland and Mike Deren of Frontier were the leaders of the Boys AA race in the earlier stages in 2004.

Here are just a few of the highlights from the storied 2004 States meet.
Saratoga's Nicole Blood outruns her fellow junior Aislinn Ryan of Warwick Valley to win the first girls Class AA championship while leading the Blue Streaks to their 5th straight States win. Saratoga would go on to win the first ever Nike Team Nationals, but it was the Wildcat Ryan who would go on to capture the Foot Locker crown a month later.
Sophomore Ryan Sheridan of Walt Whitman would win his only States title, capturing the Class AA race by more than 13 seconds over North Rockland's John Martinez. Among the other sophomores from an imposing group in the race were Steve Murdock, Brian Rhodes-Devey, and Tom Gruenewald, who would account for the next two States AA titles and many other wins during the following years. Fayetteville-Manlius was the team winner, and it would go on to finish 2nd in the first Nike Nationals to York IL.

The Queensbury girls won their second State crown, taking the A race and ushering in a decade from 2004 to 2013 when the Spartans would be three times victorious.
Another group of Spartans, the Burnt Hills guys, won their third States crown with a dominating performance in Class A behind big guy winner Ken Little and 3rd place finisher Shamus Nally, after losing by 3 points the year before in Class B.
The Honeoye Falls-Lima girls won their final States crown during a seven-year span that reached back to 1998. The Cougars' sophomore frontrunner Liz Deir was beaten for Class B crown by reigning champ Nichole Lister of South Jefferson, but Deir would go on to win the next two States races even as her team finished behind an East Aurora team in the midst of a six year streak.
The Somers guys won their first and only title in commanding fashion with top guy Alex Bean finishing 7th, en route to a 2nd place finish in Class A in 2005. Dan Busby of New Paltz won the Class B race in a time that was bested at States only by AA winner Ryan Sheridan.
The Bronxville girls picked up their first Class C title in 21 years after winning the three D crowns from 1999 to 2001, the last of those coming in a year when Elmira Notre Dame's Molly Huddle was the champ. The Broncos would go on to collect 7 more titles in the next 9 years to push their tally to an even dozen.

Sauquoit Valley's guys took a 50-point win in the Class C race as the Indians' top guys John Nicotera and Jason Lomanaco took top-10 places.
Berne-Knox-Westerlo beat out Tupper Lake for the boys' D title, but the main highlight was Candor sophomore Christian Thompson capturing the first of his three States crowns after finishing 7th as a freshman in 2003.
The Beaver River girls overcame four straight years of runner-up frustration by breaking through for their fourth and final States title.

And speaking of runner-up teams, along with the five defending Chenango Valley champions looking to continue their CV streaks, there are also four teams running on Saturday who finished 2nd in their races twelve years ago and who are looking for some revenge this time. They include the Tupper Lake guys and Cornwall, East Aurora, and Greenwich girls. None of them however will get to run against the team that beat them in 2004.
The photos from 2004 States all come from the fantastic Photos section that Bill Meylan posted on Tully Runners as part of his coverage of a great meet. And yes, the 2004 runners are all wearing their section's jersey colors, which was the rule back then.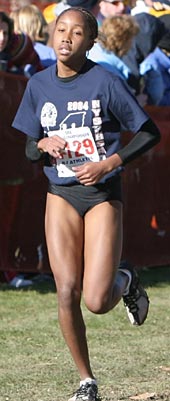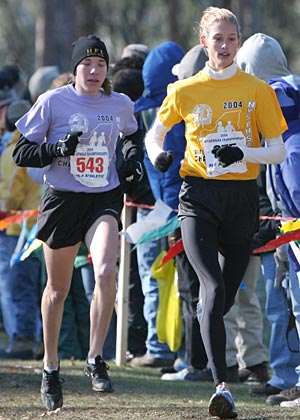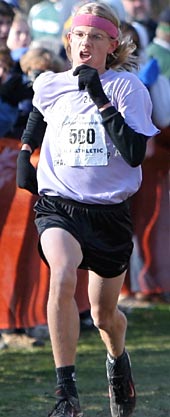 Brittany Sheffey of Bellport at left was the 2004 Class A winner, South Jefferson's Nichole Lister repeated as States champion by beating Honeoye Falls-Lima's Liz Deir (no. 543) in the Class B race, and Corey Robinson of Greece Odyssey won the boys C race.
The prognosis for five reigning Chanango Valley States winners who qualified again this year are revealed on the following pages.


Or simply click the next button below to scroll through the full list.